Crane's Eyrie .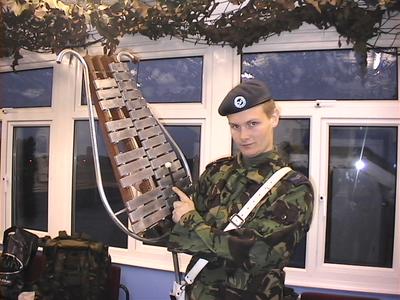 Hello - Gareth Moreton speaking. As well as being the Administrator of Garjen, I am a college student currently studying my second year of A-Levels in Pure Maths, Applied Maths, Physics and Computing - I am aiming for 4 A grades and I have been offered a place at Magdalen College, Oxford University, to study Physics.

For three years now, I have been a member of the Air Training Corps (ATC), attaining the rank of Corporal and being awarded the coveted "Communicator's Badge". You can see me in the photograph above in my combats, playing a Glockenspiel.

I am quite a keen computer programmer - I started on a BBC Micro when I was nine years old, before moving to the PC with QBasic and then Visual Basic. When I was about twelve, I made the jump to Borland Delphi and to this day that is still my language of choice. Recently, I have started to learn how to use OpenGL for 3D graphics and a little bit of programming in the dreaded Assembly Language!


Real name: J. Gareth Moreton

Online nicknames: Praetor PredAtor (sometimes shortened to just Praetor or just PredAtor), Red Triangle (sometimes shortened to rtriangle), Little Ninja, White Crane.

Location: Brighton, England

Interests: Physics, Mathematics, Martial Arts, Computer Programming, Music, Aircraft Design and Engineering, Air Cadets. Enough said?
Music: My particular tastes are Dance, Trance and Classical, although I do like some martial music (hence my involvement with the squadron band at the ATC) and a few other miscellaneous pieces of music as well.

Pets: Four ferocious felines!

Distinguishing feature: Hmmm... tricky one. I suppose one giveaway would be my clothing. If you see a guy walking around wearing a black fleece with a White Crane bird on the back (the symbol of my martial art), there is a good chance that that is me.


How much of Garjen can you be blamed for?

Currently, around 85% to 95%. I founded Garjen, but I have had some help and advice from Hornet, Plugwash and Exon later on.


What tools do you use?

For making this website, I have used MacroMedia DreamWeaver 2.0 and the UltraEdit-32 Hex Editor.


What does your desktop look like?

Very plain and uninteresting in comparison to some people's.